false evolution album release party @ Fontana's, LES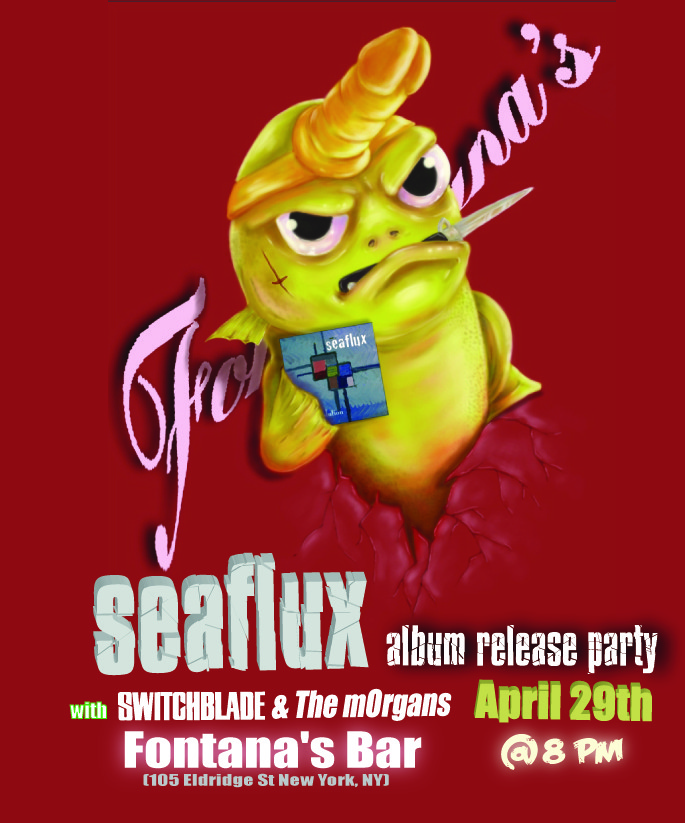 Months of constant toiling in an underground bunker have yielded results for Brooklyn's favorite jam-rock trio, seaflux. Now ready to unleash the fruits of their labor on an unsuspecting populace, seaflux prepares to hold an album release party that will live on in the annals of rock music history.
Starting at 8, we've got an amazing opening lineup. First, Switchblade hits the stage for a mind-blowing extravaganza of epic metal madness. They'll twist and tear your brain with masterful compositions of extreme testicular fortitude.
Next up is the small "m" and big "O" of the incomparable mOrgans, shocking your world with their raunchy, triumphant art rock. Guests are advised to take the necessary precautions to prevent accidental impregnation of their womb and or cranial cavity.
Finally seaflux touches down on the main stage at 10pm for a special double-length set. We'll be playing selections from our new album, new half-finished tunes, and of course, numerous hot jams for your pleasure.
SAVE THE DATE, and get ready for a night of rock that you won't soon forget.
---
---