exploding capacitors @ The Beauty Bar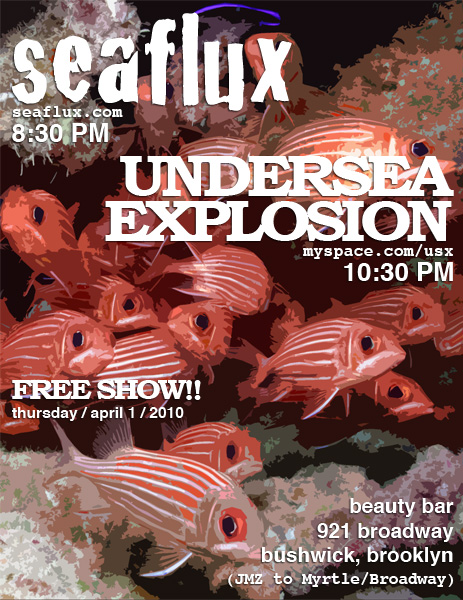 A new craze is taking control this once great nation, unhindered by conventional standards of morality and decency, and ready to restore this country to its former standards of discovery and rebellion.
The engineers of this cultural coup have spent weeks infiltrating various positions in the Thursday Night Beauty Bar Cabal, and are now ready to conquer with a dual performance of the two hardest-working rock bands on the East Coast.
Come out to Jay Sharp's Thursday Night at Beauty Bar, and get your minds blown first by the jam rock stylings of the band once hired to entertain the Sultan of Brunei, Brooklyn's own seaflux.
Then, just as you reacquire some semblance of sanity, the international supergroup Cincoflux will hit the stage, ready to blast your world with a high-energy beam of super concentrated rock 'n' roll.
Also performing tonight will be The False Alarms and Martin Luque of Losing You to Tattos.
Lineup:
07:30pm the false alarms 08:30pm seaflux 09:30pm martin luque of losing you to tattoos 10:30pm cincoflux
---
---